On the afternoon of January 2, Zhejiang Jia Long 2016 annual review meeting held in the company's conference room. Wu Quan Lin, chairman of Jia Long, Wu Kai Tuo, general manager, Zhao Jia Gang, executive vice president and the company's department managers attended the meeting, the meeting was presided over by the general manager of Jia Long, Wu Kai Tuo.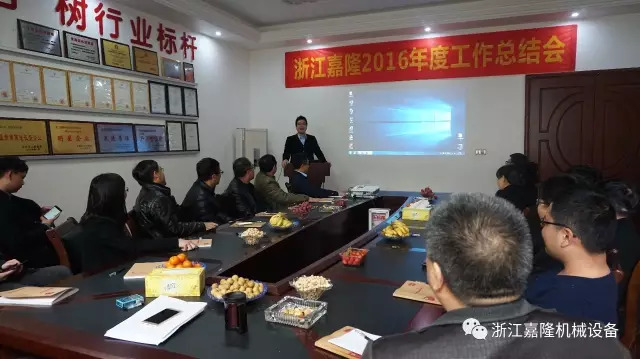 At the meeting, the department managers summed up the work of the department in 2016, reported the work plan and ideas for 2017 and proposed solutions to the problems in the work. During the reporting period, the meeting arranged some interactive section, listening to the colleagues' work and family changes in the past one year and everyone's new year wish, making the meeting relaxed and loving.
Executive vice president of Jia Long, Zhao Jia Gang conducted a summary review of the overall company's work in 2016. Made a detailed summary of the company regarding the solution of the focused work and propulsion situation in 2016, reported the Jia Long's completion situation of the work indicators. In 2016, members at all levels of Jia Long reflects a high degree of unity and a high sense of responsibility when facing the great pressure and difficulties. The company's work in 2017 will be focused on " Effortlessly in the production works, increase work efficiency, follow up in solving the remaining problems, planning future development, establish a corporate social image", focus on the overall situation, work together to achieve all work indicators in 2017.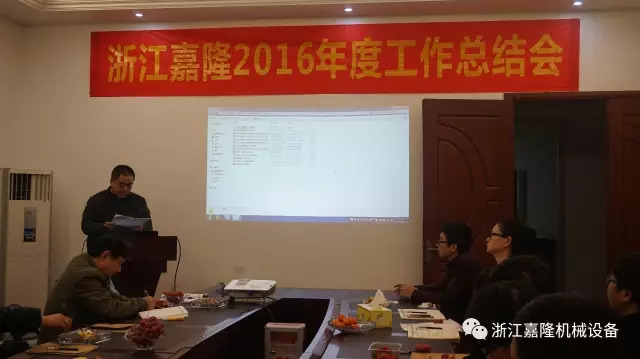 General manager of Jia Long, Wu Kai Tuo gave a speech that summed up the company's work in 2016, successfully carried out a comprehensive review of the company's work, he fully affirmed and highly praised with the company's performance. Besides, he required all his staff to be united and work together to make sure all the 2017 target completed; He hope that all the company members will put the development of Zhejiang Jia Long as the first place, contribute for the company's overall development.
This annual review meeting successfully held, seriously and comprehensively summarized the company's operating conditions in 2016 and all work situation. At the same time, it indicates the direction of the struggle for everyone and boosts everyone's confidence in the future. Hope that in 2017 we can work together and create a brilliant time with all Jia Long members.